June 17, 2019 by: Kathleen Fleming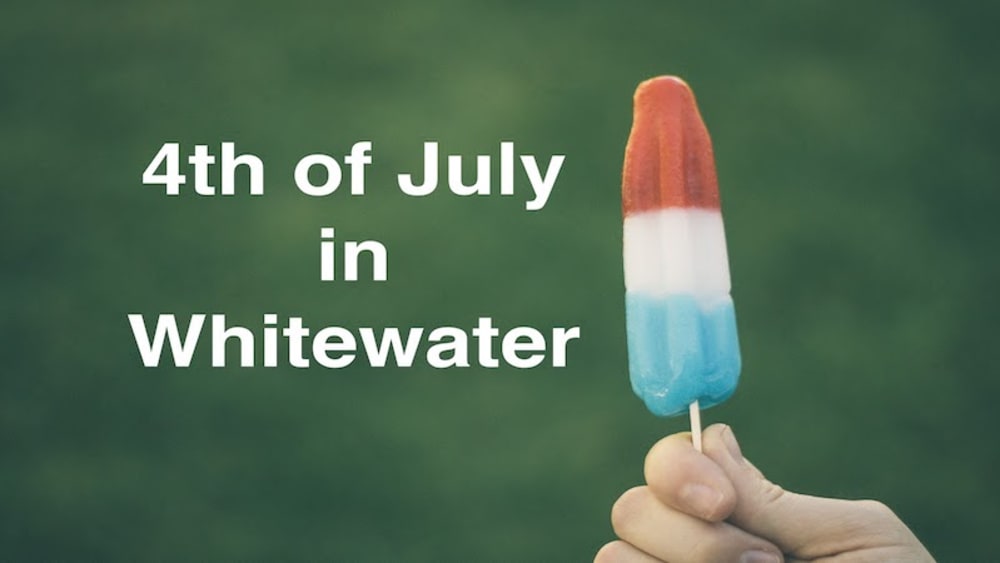 4th of July in Whitewater
Fireworks and parades. Popsicles and watermelon. Warm sunny days and carnival filled nights. You know what we're talking about. Nothing quite says summer like the Fourth of July, and while every town in America celebrates, Whitewater may just be the best one out there.

Whitewater Wisconsin. This all-American town knows how to honor this amazing day. Not just a parade, not just fireworks, but with a Fourth of July FESTIVAL. 5 days of events surrounding this massive day are not something to miss. Festivities start on the night of the 3rd with the Miss Whitewater Pageant and continue all the way through Sunday the 7th. There's a lot to do, see, and enjoy, so we've created this event guide to help you navigate your way through the festival!

July 3rd
The festival kicks off with the Miss Whitewater Pageant from 4pm-7pm. After that, the carnival officially opens and there is live music from 8-11pm. The festivities are just beginning, so make sure to get some rest as you won't want to miss a second of the next couple days.

July 4th
The parade kicks off at 10am sharp so plan on finding a good spot a little earlier than that. If you're staying at the Hamilton House Bed & Breakfast, you can enjoy our handcrafted breakfast at 9am before strolling onto our front porch or lounging on the lawn. Enjoy your coffee and a sweet treat from your front row seat as the parade meanders right in front of our house.

After the parade, the majority of festivities are occurring downtown at the Cravath Lakefront Park, located less than half a mile away from our B&B. Here you can enjoy the carnival which is going on all day, check out the Car Show happening until 2pm, and groove to some live music before watching fireworks over the lake at 10pm. Bring a blanket and enjoy from the park or view from Hamilton House with a glass of wine.

July 5th
After a late night of festivities, activities start a little later in the day on Friday the 5th. We recommend using this time to explore downtown Whitewater, wander around some of the shops and dip your toes in the lake. The carnival and food vendors are going to be open from noon until late with live music from 5 until close. If you haven't had the chance to visit the carnival, now would be the time to. If you've already been around on the rides a couple of times and want to try something new there are tons of fun activities to do here in Whitewater. Check out our 5 Things To Do This Summer In Whitewater blog post for ideas on the best activities to do while you're here.

July 6th
On Saturday, the festivities pick up once again with tons of family-friendly activities going on throughout the day. Do not miss the petting zoo from 10am to 2pm where there will be tons of great animals to pet and hang out with. Head on over to our neighbor town East Troy to browse the East Troy Railroad Museum or take an excursion on one of their trains. Grab lunch or dinner at one of Whitewater's several delicious restaurants. Read our Innkeepers Picks for Dining in Whitewater to help you decide which of these awesome spots to dine at for the night! The night ends with more live music at the park and another round of fireworks over the lake!

July 7th
Sunday, the last day of the event, winds down as everyone is getting ready to go back home and get back to work. The carnival will be running from noon-4:30 but the rest of the festivities are packed up. We recommend taking this time to stroll along the waterfront and enjoy one last bite at any of Whitewater's wonderful restaurants before heading out.
Whitewater is a wonderful town year round, but watching the American spirit come alive on this weekend every year is truly special. We would love to help you enjoy this amazing festival and are here to help with any restaurant recommendations, itinerary plans, or suggestions on what activities to focus on while you're here. Come say hello and help us celebrate all weekend long!
Want to spend the Fourth of July in Whitewater? Book a stay at the Hamilton House Bed & Breakfast, centrally located next to downtown so you can enjoy all of the festivities including front row seats to the parade!