May 16, 2019 by: Kathleen Fleming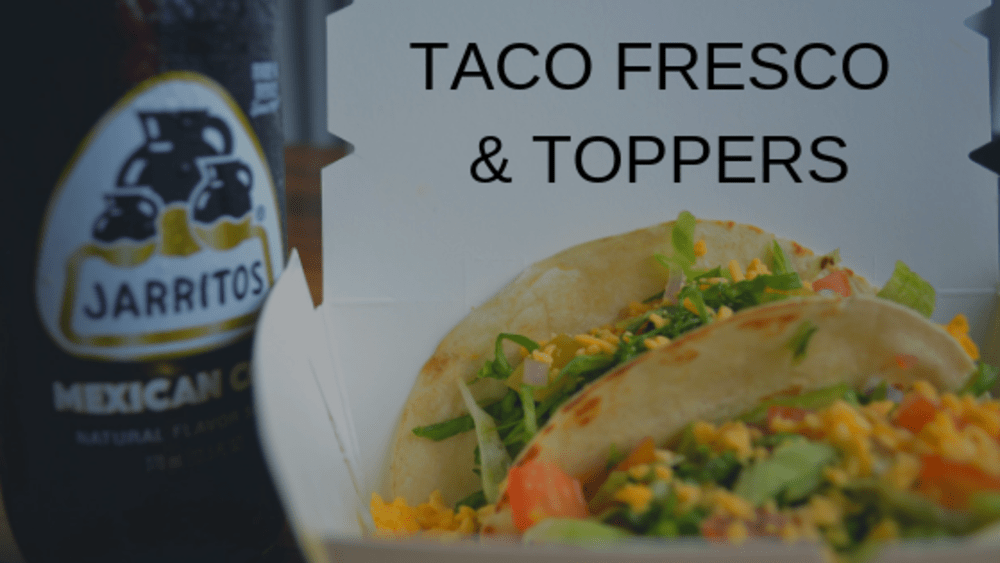 Dinner at Taco Fresco & Toppers
There are many wonderful restaurants to choose from in Whitewater, but sometimes, you just don't feel like going out. Luckily, some of our favorite restaurants in town also offer options for take-out and delivery. After a busy day of hiking in the Kettle Moraine Forest, cycling on the local trails, or fishing on Whitewater Lake, you deserve a relaxing evening in with a good meal. Order ahead of time and you can enjoy delicious pizza or tacos right here at the Hamilton House Bed & Breakfast!
Taco Fresco is one of our go-to spots for take-out and delivery. They make all their menu items from scratch using only the freshest ingredients. Taco Fresco serves up Mexican classics like carne asada and fish tacos as well as tasty creations like fried avocado tacos, green chili pork tacos, and Asian steak tacos. If you aren't in the mood for tacos, their menu is jam-packed with plenty of other options, including soups, salads, quesadillas, burritos, and burgers. Just like their tacos, they serve traditional burgers as well as inventive takes like the Bacon Jalapeno Burger or the Moroccon Burger. Don't forget to start with chips, salsa, and guacamole! Taco Fresco is a great option for vegetarians. There is a $2 delivery fee, but your meal comes with a complimentary fountain soda.
Toppers specializes in late night pizza delivery and carry-out. For $10.99, you can enjoy a large carry-out three topping or house pizza, one of the best deals in town. But Toppers doesn't stop with pizza. Their menu is filled with a variety of other comfort foods, from loaded mac n' cheese to boneless chicken wings. If you are in the mood for something sweet, try their signature monkey bread, basically bite-sized pieces of freshly made dough sprinkled with the toppings of your choice, including cinnamon and raspberry cheesecake flavors.
Traveling can be exhausting, so take some of the pressure off and enjoy a delicious meal from the comfort of the Hamilton House Bed & Breakfast. We promise we won't take the leftovers.

Planning a trip to Whitewater, Wisconsin? Book a stay at the Hamilton House Bed & Breakfast, a friendly boutique B&B located near the Kettle Moraine State Forest.