February 1, 2019 by: Kathleen Fleming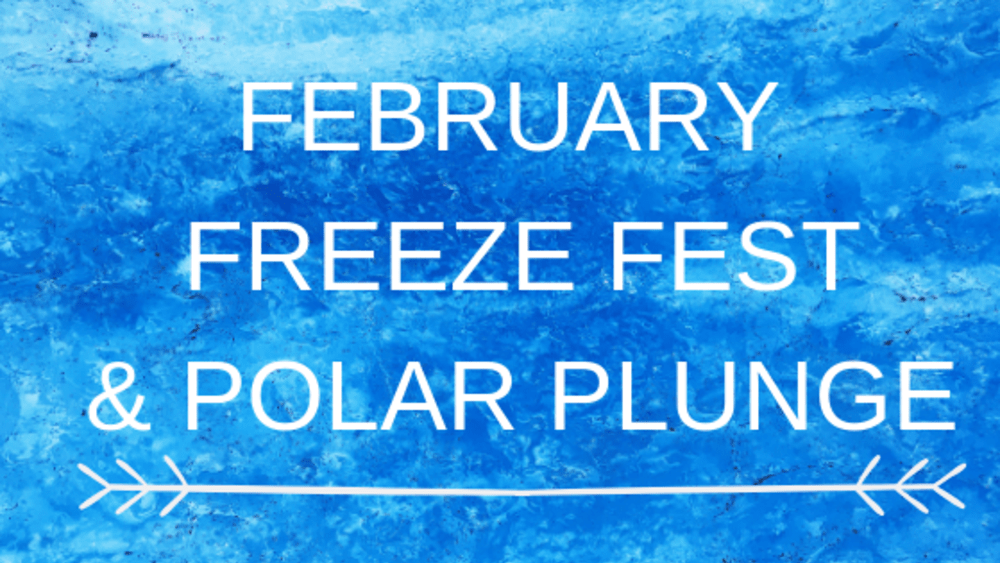 February Freeze Fest & Polar Plunge
Cold weather isn't enough to keep Wisconsinites inside. Even though average February temperatures hover around 32 degrees and sometimes drop below freezing, Whitewater citizens still find fun and creative ways to have a good time throughout the winter. One of our favorite local winter events is the February Freeze Fest & Polar Plunge. Freeze Fest & Polar Plunge events happen all across the state, including Whitewater. This year's Freeze Fest will be held on February 9th at Cravath Lakefront Park and promises tons of chilly, wintery fun for all ages.
The crowning event of the festival is the Polar Plunge, where hundreds of Wisconsin's most fearless citizens brave the freezing temperatures and plunge into the icy waters of an 118,000 gallon pool. Why would anyone do such a thing? you may ask. Well, all of the proceeds from the Polar Plunge go to Special Olympics Wisconsin. By taking the leap, participants are benefiting a good cause while also proving their mettle for all to see. Many local schools participate, taking advantage of the opportunity to "Toss Your Teacher" or "Plunge Your Principal." Local businesses can also pledge to "Toss the Boss." An elite group of men and women known as Super Plungers test their courage and endurance by plunging up to five times in a single day. In 2018, over 260 people took the plunge and raised $59,000. Let's try to up that number this year!

From 11:00 am until 2:00 pm, there will also be a Chili Cook-Off in the Lakefront Warming Tent. Whether you come to compete or just to eat, this event is a great way to warm up before or after the plunge. Bring your best chili recipe, or if you aren't a cook, simply bring your empty stomach and enjoy all the tasty local creations. From 11:00 am until 1:00 pm, there will be sled dogs on site, provided by Carting K-9s, to take you on a thrilling ride in their dog carts. Runners can also sign up for the Freezin' for a Reason 5K in either Oshkosh or La Crosse, a great way to break a sweat before the plunge (or raise money for a good cause, without having to jump into freezing water.) There are so many ways to participate in this beloved local event. You can take the plunge yourself, sponsor someone else to do it for you, or simply come to watch the participants and enjoy a steaming bowl of delicious chili. However you choose to do it, February Freeze Fest is an unmissable local event that shows the bravery and generosity of our Whitewater community. We'll see you there.

Planning a winter getaway to Whitewater, Wisconsin? Book a stay at the charming Hamilton House Bed & Breakfast, located just minutes away from Kettle Moraine State Park.