April 23, 2018 by: Kathleen Fleming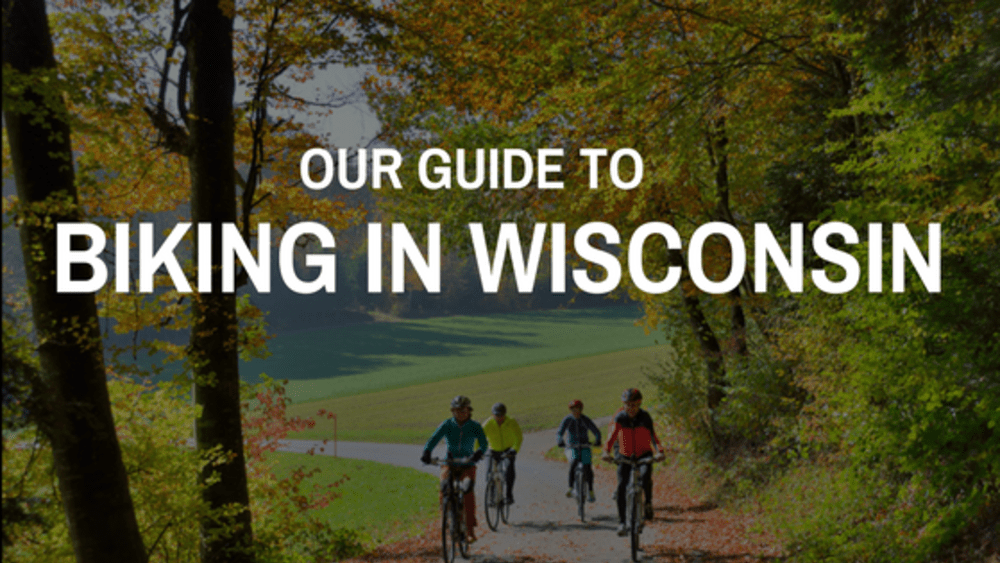 Our Guide to Biking in Wisconsin
Whitewater, Wisconsin is a bike-friendly town and the Hamilton House Bed & Breakfast is a bike friendly property. Located near the Kettle Moraine State Park, the Hamilton House Bed & Breakfast provides detailed information and a variety of amenities to help you make the most of you Wisconsin cycling adventure. We offer covered and secure bike storage, washing equipment, maps of local bike routes, and more. There are many amazing biking trails located within 30 minutes of our property. Whether you are a mountain biker or a road cyclist, we will help you find the right trail for you. To help you decide, we have compiled a list of our favorite trails in the region. You will also find information about group bike rides and the best places to rent gear, if you need it.

Kettle Moraine State Park
Kettle Moraine State Park encompasses 22,000 acres of rolling hills and glacial lakes just minutes from our property. The park is a popular destination for cyclists from all across the region. There are two major trail systems within the park: the John Muir Trail and the Emma Carlin Trail. The John Muir Trail offers 27 miles of tracks consisting of 5 one-way loops that allow you to mix and match your skill levels and desired distance. The Red and White Loops are fairly short and easy. For the harder stuff, try the Blue, Orange, and Green Loops, where you'll find steep uphill climbs and thrilling, twisting descents.
To access the Emma Carlin Trail, simply take the Green Loop to the Connector Trail, which eventually meets up with the Emma Carlin Trail. This trail is more remote and less trafficked than the John Muir Trail. With difficult single-track sections and rocky, rooted trail surfaces, this trail is recommended for more experienced riders. Don't forget to bring your helmet.
While you're in the park, we recommend you check out the Nordic trails as well. Though popular with cross country skiers and hikers, these routes also offer six different trails of varying lengths and difficulties for cyclists.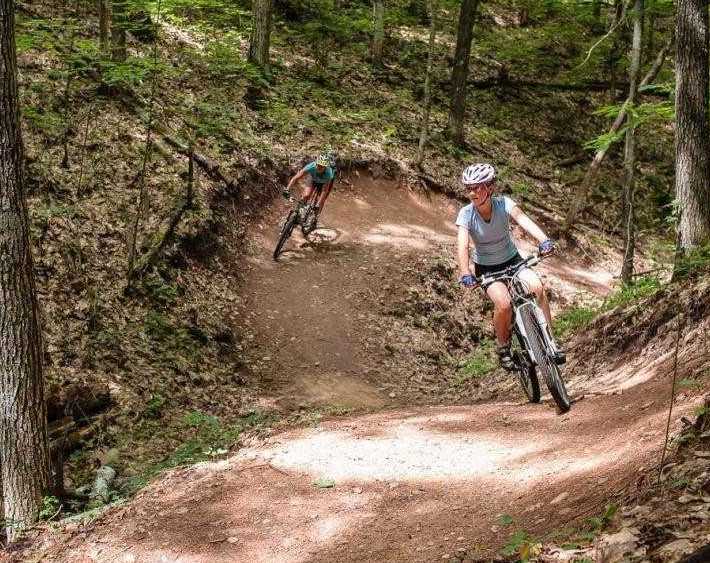 Glacial River Bike Trail
Head to nearby Fort Atkinson to explore the excellent Glacial River Bike Trail. This is part of Wisconsin's groundbreaking Trails to Trails project, in which abandoned railroad lines are transformed into beautiful and well-maintained biking trails. This pleasant 8.6 mile route starts in downtown Fort Atkinson and follows the Jefferson/Rock County line. On this scenic route, you'll pass bronze sculpture, rolling farmland, meadows, and fountains. The trail is a mix of asphalt and limestone.

Lake Geneva
The charming resort town of Lake Geneva offers many lovely bike routes for riders of all skill levels. The Lake Geneva Bike Trail has five different, color-coded segments through town and the surrounding parks and wetlands. For mountain biking, the Lake Geneva Canopy Tours companies will take you on guided tours of the Arbor Trails through lush forests and scenic landscapes. A local favorite, this route boasts ladder bridges, switchbacks, and other fun surprises.
Rustic Roads
Rustic Roads is a state-wide project to preserve Wisconsin's scenic country roads for bikers, hikers, and motorists. All of these routes have outstanding natural features along their borders, such as forests, farmland, flower-filled meadows, and more. There are many wonderful trails in the Southeastern corner of the state near Whitewater. For a detailed guide to all the roads in the system, click here.
Where to Rent
If you didn't travel to Whitewater with your bike in tow, don't worry! There are many great places to rent bikes and gear in town. These are also great places to meet local cyclists, ask for recommendations on trails, and check out upcoming bike-related events. Our favorite local bike shops are:
If you are interested in taking a ride with a group, you'll find many options in Whitewater. There are Tuesday night group rides starting at 6:00 pm. Find more details at Backyard Events. On Thursday nights, check out the Women's Group Ride starting at 6 pm. Bicyclewise hosts a Wednesday night easy loop starting at 5:30 pm on the country roads north of town.

Planning a bicycling adventure in Whitewater? Book a stay at the Hamilton House Bed & Breakfast, located near the cyclists paradise, Kettle Moraine State Park.