August 2, 2019 by: Kathleen Fleming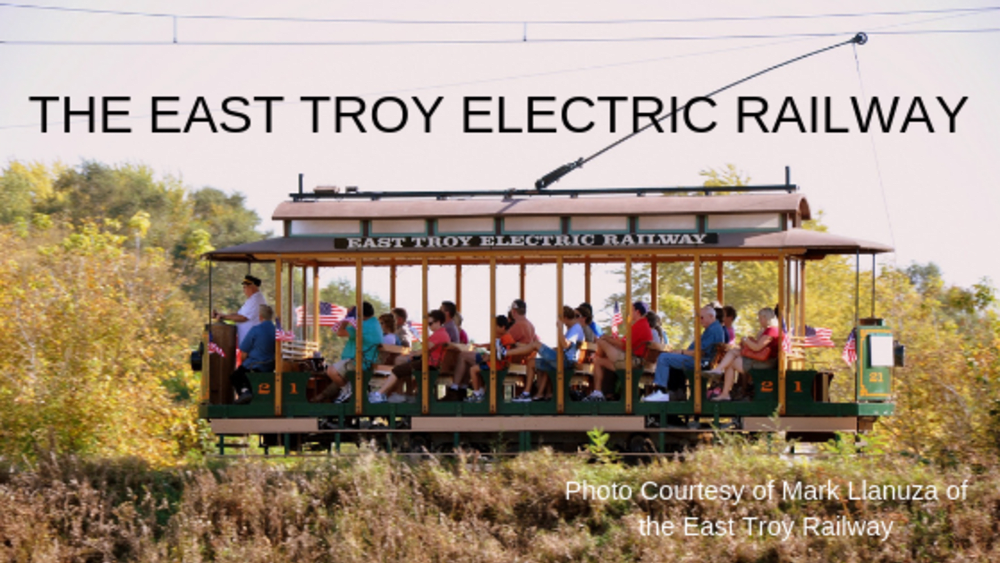 The East Troy Electric Railway
A ride on the East Troy Railway is the perfect weekend activity. Scenic views from a historic railway car across some of the most beautiful terrain in the midwest, paired with knowledgeable and amusing hosts make for the ideal outing. The East Troy Railway formed to preserve the old railroad equipment that was essential to the town for decades and share it with the visitors from around the world. Their historic rail cars travel 10 miles from East Troy to Mukwonago and back and hosts a wonderful museum with models, hands-on displays, and pieces from the past. The railroad is operational Friday-Sunday, and on select holidays. You can check the schedule here.
Our ideal ride departs from Indianhead Park in Mukwonago at 10:40am and rides along to East Troy, where you can get off and enter the depot museum. While you're in the quaint town of East Troy, grab a meal at one of their several fantastic restaurants. A new favorite on the square is East Troy Brewery, a gastropub-brewery serving up handcrafted foods and made-in-house beers. Their outdoor seating lets you enjoy the beautiful downtown and their comfortable indoor seating area is inviting and makes you feel right at home. After lunch, meander around the square and pop into any shops that spark your interest. A local favorite is Ink Link Books. This bookstore is something out of a dream with a fireplace, hundreds of books, both best sellers and secret treasures, and charming decor. Head back to the depot to grab a cold cone of ice cream at J. Lauber's Ice Cream Parlor for some of the best ice cream in the state. Hop on the train back to Mukwonago and enjoy the scenery from the other side of the rails. Take advantage of the multiple stops and hop on and off at the different parks and sites before arriving back at your starting place.
Every ride on the East Troy Railway is a special event, but if you want a truly unique experience, then reserve tickets for one of their signature rides.

Fine Dining Days:
Throughout the year, the East Troy Railway hosts elegant dinner parties on their renovated dining cars. Enjoy a scenic two-hour journey while dining on delicious seasonal courses. Check out their list of themed dinners and pick a menu that speaks to your taste buds. Tables are meant to seat either parties of two or four, so surprise your beloved with a romantic dinner ride, or bring some friends for an unforgettable experience.

Christmas Train Ride:
Take a magical Christmas ride in a heated train car through the snowy Wisconsin hills. The trains will be decorated with holiday spirit and run for two hour intervals during the daytime. For a special holiday treat, reserve a ride on the Santa's Special Evening Train, where you ride in the elegant dining cars and sip on hot chocolate and munch on cookies for a romantic night. There's no better way to get into the Christmas spirit!

Year Round Festivals:
The East Troy Railway loves to throw events and celebrate during the year. In addition to their annual events like Chicago Day and Railfest, they throw special dinners and events throughout the summer. Join them for a fun family picnic or a romantic wine tasting.
Visit the East Troy Railway for a day filled with scenic views, fun facts about Wisconsin's history, and taste a bit of life before automobiles. Whether you come for a lazy-day scenic ride or a romantic dinner-date, a ride on their historic train cars is always a great time.

Planning a trip to the East Troy Railway? Book a stay at the lovely Hamilton House Bed & Breakfast in downtown Whitewater, just minutes from Kettle Moraine State Park.