August 19, 2018 by: Kathleen Fleming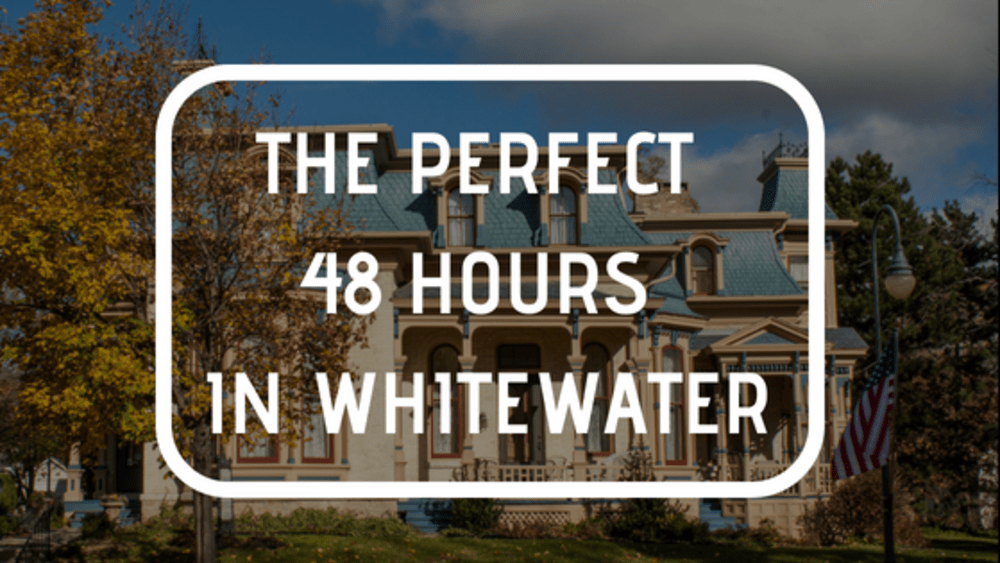 The Perfect 48 Hours in Whitewater
Whitewater is a bustling university town with excellent restaurants and bars, a thriving arts scene, and plentiful opportunities for outdoor adventure. 48 hours might not seem like a lot of time to explore our charming corner of Wisconsin, but it is possible to get a taste of everything the town has to offer in just two days. Use our handy guide to plan the perfect 48 hour getaway to Whitewater.

Day 1: Bike Rides & Dinner Theater
Start off your day with the delicious continental breakfast served daily at the Hamilton House Bed & Breakfast. If you'd like to get an early start before our 9am breakfast, we will prepare a continental "to go breakfast" or you can upgrade to an in-room breakfast available beginning at 7 am. If you prefer to eat closer to 6 am or need a mid-morning pick-me-up, we recommend the Sweet Spot Cafe. The Sweet Spot serves tasty breakfast items, including breakfast sandwiches, oatmeal, and granola, as well as some of the best pastries and baked goods in all of Whitewater. The Sweet Spot is also a great place to stop in for coffee and tea if you need a pick-up later on in your trip. While you're here, order a few sandwiches to go to snack on for your afternoon adventures.
Next, stop into the Backyard Bike Shop to rent bicycles for the day before heading on to Kettle Moraine State Park. Encompassing over 22,000 stunning acres of glacial hills, sparkling lakes, and dense pine forests, Kettle Moraine State Park is a must-do for any visitor to Whitewater or the surrounding area. Kettle Moraine State Park is a popular spot for cyclists from all across the Midwest, boasting 20 miles of excellent, well-maintained mountain biking trails. The two major trail systems in the park are the John Muir Trail and the Emma Carlin Trail. The John Muir Trail consists of 5 different one-way loops that are color-coded according to difficulty. The John Muir Trail system might be the most-visited in the state. Simply pick the trail that fits your skill level and interests.
After your busy day at Kettle Moraine, return to the Hamilton House Bed & Breakfast to relax and recharge. You can read a book on our tranquil gazebo porch, play some parlor games in our living room, or simply take a rejuvenating nap in our comfortable and spacious rooms.
To end your first day at Whitewater, watch a show at The Fireside Dinner Theater in Fort Atkinson. The theater has been in operation for 54 years, making it a beloved local institution. You'll start your evening with an elegant dinner in their dining room and then see a live professional show in their theater-in-the-round. Fireside does everything, including classics like Grease, My Fair Lady, South Pacific, and more. This summer, they are presenting The Little Mermaid, but check their schedule to see what's on while you're here. Fireside also hosts regular musical concerts.
Day 2: Hikes & Beer
Start off Day Two with another hot breakfast in our dining room before hitting the trails. Natureland Park is one of our favorite hiking spots in the area. Stretching across 122 beautiful acres of springs and wetland, there are 4 excellent hiking trails within the park. This is also a great way to explore the rich ecological diversity of the region.
Once you're back in town, grab lunch at Taco Fresco, which serves tasty Mexican classics along with original creations like fried avocado and Moroccan chicken tacos. Taco Fresco also delivers if you would prefer to enjoy a take-out meal on our relaxing porch. After lunch, take a stroll through Cravath Lakefront Park or the University of Wisconsin-Whitewater's prairie preserve.
To kickoff your final night in Whitewater, treat yourself to a delicious dinner at Fanatico, the best Italian restaurant in town. Their menu is filled with classic home cooked Italian dishes like chicken piccata, eggplant parmesan, and spaghetti pomodoro. With its warm ambiance, friendly staff, and affordable prices, Fanatico is a must for any visitor to Whitewater, and its located just a few blocks from Hamilton House.
Whitewater is a college town after all, so end your time in Whitewater by hitting some of its great bars and pubs. Start off at Second Salem Brewery, Whitewater's very own craft brewery. The guys at Second Salem brew a tasty and diverse range of craft beers on-site using the unique one-barrel "nanobrewing" technique. Many of their beers are inspired by a local legend that Whitewater was once a haven for witches and werewolves. From there, hit up other local favorites like the Brass Rail, College Pub, or the Mad Boar Pub. Then end your night with a delicious, seasonal cocktail at Black Sheep. We recommend trying their Brandy Old Fashioned, a fun and tasty twist on Wisconsin's signature state drink.
48 hours gives you just enough time to explore everything that Whitewater has to offer: theater, food, beer, and the great outdoors. If two days isn't enough, you can always come back for more. Just make sure you book a stay at the Hamilton House Bed & Breakfast, your home away from home in Whitewater.

Planning a trip to Whitewater, Wisconsin? Book a stay at the Hamilton House Bed & Breakfast, located near the Kettle Moraine State Park and the University of Wisconsin-Whitewater.