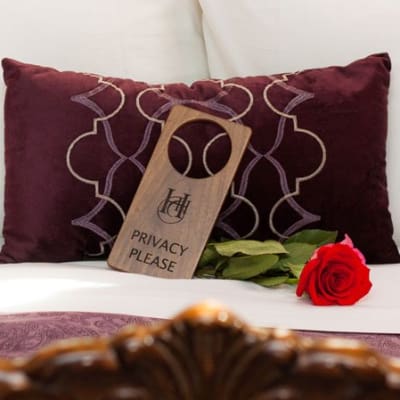 A Better Way to Stay
Best amenities in Whitewater, Wisconsin
We strive to provide you with all the amenities you have come to expect at a Hotel with personal service, comfort and attention to detail that gives you the freedom to focus on what is important to your time away.

Property Amenities
Full hot breakfast served by fire light in the formal dining room at 9:00am
Options are available for alternate breakfast times and locations
Afternoon refreshments
WiFi
Central air
Off street parking, secure bike storage
Common areas with fireplaces, gazebo porch
Parlor games, CD collection, yard games
Refreshment center with stemware, openers, stoppers, microwave,
Refrigerator, microwave, coffee / tea machine
Iron / ironing board
Conceirge services

Guest Room Amenities
Private bath
Whirlpool, fireplace, and /or sitting areas in most guest rooms
Cetral air
WI-FI
Down bedding, Luxury towels and linens. (down free rooms available)
CD/MP3 player, shampoo, soap, shaving cream, toothpaste, hairdryer
Select rooms have robes and candles
In room breakfast available in select rooms

For an additional fee, you can include:
In-room breakfast, available in select rooms
In-room massage, available in select rooms
Early arrival, Extended departure
Anniversary, Wedding, Birthday, Romance packages
Flowers
Meeting space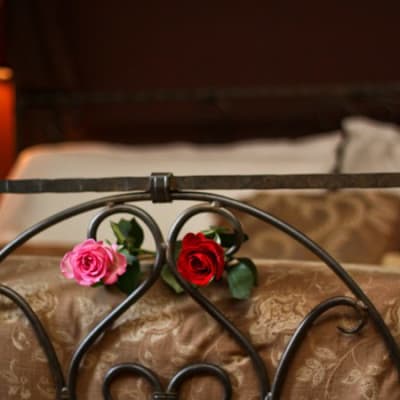 Amenities
All the privacy and service you desire.
WiFi? Yes, free, password protected wifi available throughout property
Central Air? Yes, air conditioning is set at 70 degrees.
King Beds? Yes, four of our eight rooms have a king bed.
Parking? Yes, private parking lot with one slot for each room.
Privacy? Yes. Your room key allows for private access to the property.
Concierge? Yes, you will have access to the innkeeper as needed.
Amenities? Yes, we strive to provide the details so you can just relax.
TV? No, we hope to create a space for you to share lasting memories.
Places to eat near by? Yes, walk to a variety of restaurants and pubs.
Two Beds? No, rooms have one bed. Roll away may be available.
Business Travelers? Yes, alternate, midweek policies focused on the varied needs of our business travelers are available. including; breakfast times, arrival times, television and single occupancy rates.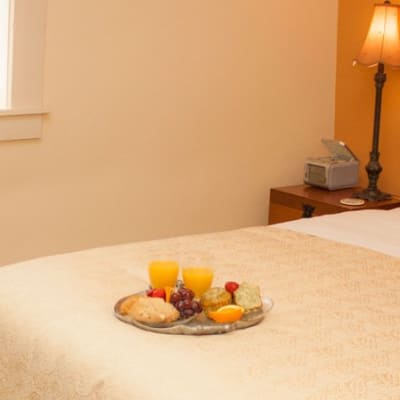 Breakfast
Breakfast at the Hamilton House in Whitewater Wisconsin
Breakfast Experience
Awake in the morning to the aroma of fresh brewed coffee delivered to the common area for you to enjoy as you relax in your room or parlor before breakfast. You may catch a whiff of bacon and pastries to wet your appetite as breakfast is lovingly prepared for you.
The candles and fireplace will be lit to welcome you into the dining room. Have a seat; savor your fresh breakfast as the innkeeper pours your choice of hot tea or coffee. Enjoy a leisurely conversation with the other guests as the innkeeper answers questions about things to do and places to go.
Your stay at the Hamilton House Bed and Breakfast includes a full breakfast served at 9:00 a.m. in the formal dining room by firelight. Chef's choice of a hot breakfast is lovingly prepared fresh each morning. Breakfast consists of a hot entrée, meat on the side, fresh seasonal fruit, juice, coffee, tea, ending with a sweet treat. Saturdays are typically a savory fare with pastries to keep you powered up for a day of adventures. Sunday is typically a decadent sweeter entrée with a fruit dessert.

Breakfast options
If you prefer the comfort and privacy of an in-room breakfast, we do offer this in select rooms for an additional fee. The in-room breakfast is a full hot breakfast delivered at a time that is convenient to you between 7:00 a.m. and 10:30 a.m. Advance notice is required to make arrangements. In-room breakfast is available in the Degas, Pissarro, Morisot, Cezanne and Monet rooms.
If your schedule requires you to leave prior to the formal breakfast, we will be happy to prepare a "to go" breakfast for you. We will prepare a continental sack breakfast and place it in the guest fridge the night before. It will then be available whenever you need it. Advance notice is required to make preparations. The "to go" breakfast typically contains muffins, fruit and yogurt.

Breakfast for our business travelers
Mid-week business travelers will enjoy the convenience of breakfast served in the dining room at a time that suits their schedule. This is available Monday – Friday mornings. Please mention preferred time in advance.
State reimbursement rate is for lodging only. If you are traveling as a state employee, your reservation does not include breakfast. Please contact the innkeeper for details.

Diet restrictions?
We make every effort to accommodate diet restrictions. Simply mention at the time of reservation to insure we are able to make adjustments to the menu for your specific needs.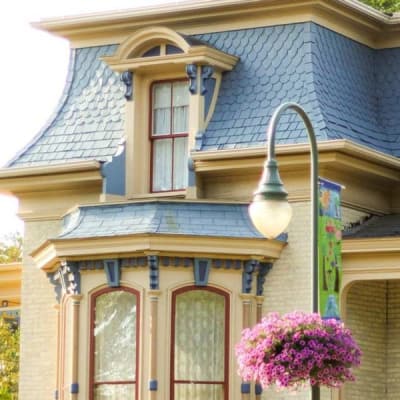 Rates
Hamilton House Bed and Breakfast is a better way to stay...
Standard lodging rates.
All guestroom reservations include privacy, bathroom, wireless Internet, use of stocked butler's pantry with microwave, refrigerator, and coffee machine, full hot breakfast served in the formal dining room at 9:00 a.m., as well as personal concierge services. Alternative Breakfast times and locations are available upon request. See floor plan below for room size and location.
Reservations booked directly on our website enjoy a shorter cancellation policy as well as priority arrival when available.
For current specials and best available rates, click "BOOK NOW" above.
$199 Edgar Degas Room - king bed, jetted tub for two, sitting area, second floor, large room.
$189 Camille Pissarro Room - king bed, jetted tub for two, sitting area, second floor.
$179 Claude Monet Room - queen bed, jetted tub for two, sitting area, first floor.
$179 Paul Cezanne Room - queen bed, jetted tub for two, seasonal fireplace, second floor.
$179 Berthe Morisot Room - king bed, sitting area, seasonal fireplace, second floor.
$179 Alfred Sisley Room - king bed, jetted tub for one, sitting area, seasonal fireplace, first floor.
$159 Pierre Renoir - queen bed, desk, sitting area, second floor.
$149 Edouard Manet - queen bed, second floor.


Additional amenities available for an additional fee
In room breakfast
Fresh flowers
In room massage
Cupcakes
In room picnic
Extended departure time
Early arrival
Meeting space


Promotional Rates
Click "BOOK NOW" above to get current specials
direct online reservations
reservation of three or more consecutive nights
midweek, single occupancy reservations
groups reservations of all eight guest rooms for two or more consecutive nights November - April
Some restrictions apply. Ask for details.
FIRST FLOOR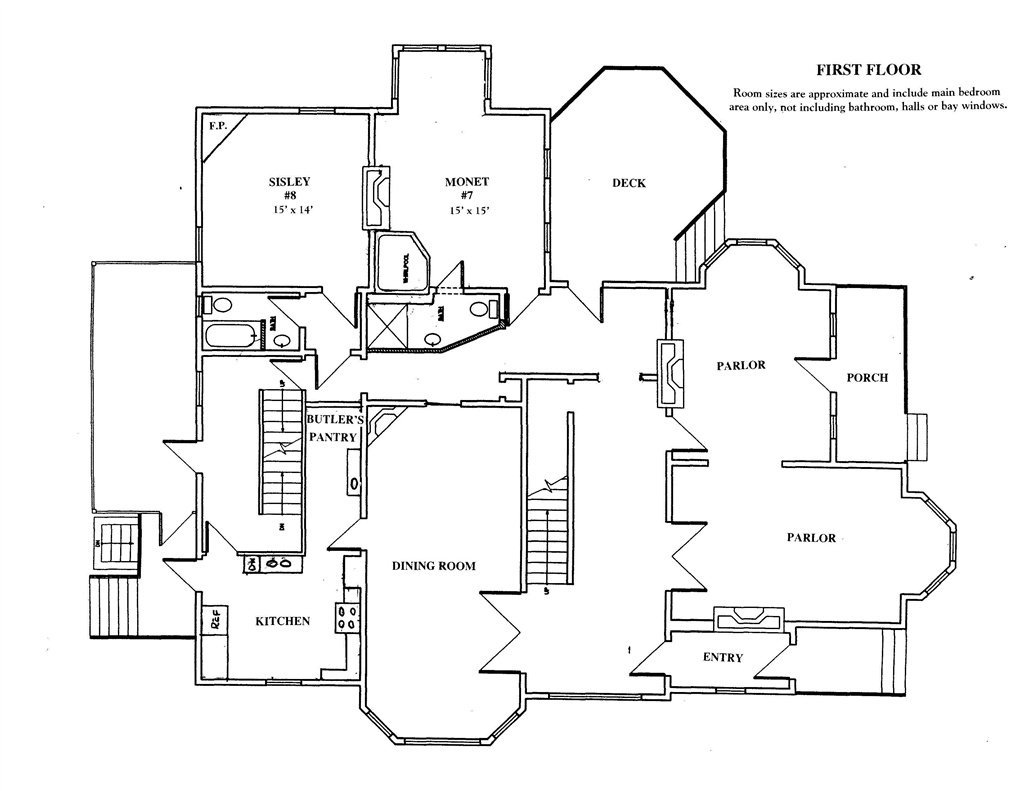 SECOND FLOOR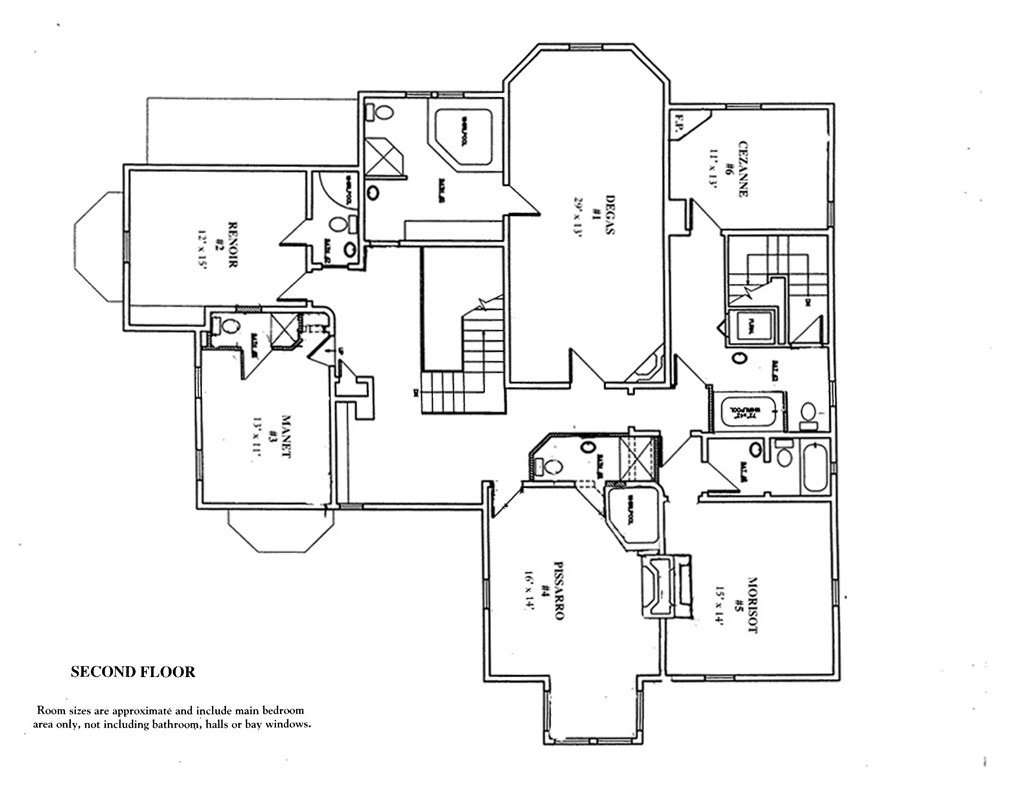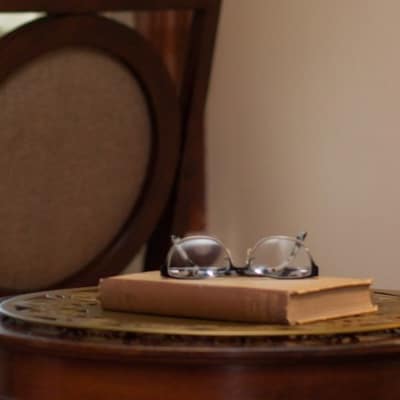 Business Travelers
Coming to Whitewater, Wisconsin for Business?
Looking for a Whitewater hotel while in the area for business? Hamilton House Bed and Breakfast is a Better Way to Stay. Reserve a room at the Hamilton House and wake to the smell of early morning coffee and a full, hot breakfast served anytime that fits your schedule. We offer rooms ranging from the basic; Bed, Shower, and TV to the Luxurious rooms; King bed, shower, as well as a leisurely soak in a large whirlpool bath or comfortable fireside lounging as you log on to your laptop and prepare for the next day's meetings. All rooms offer privacy, secure WI-FI and choice of television.
The Hamilton House offers a relaxed atmosphere with no interruptions, ideal for Offside Business Meetings.
Business Rates and services available Sunday - Thursday
Your Business reservation at Hamilton House Bed & Breakfast includes:
Reduced rates for single occupancy reservations Sunday - Thursday nights.
24-hour cancellation for Sunday - Thursday night reservations.
Secure Wireless Internet
Internet Television available upon request
Most rooms have desks or alternate work surface. Parlors offer tables and desk for working as well.
Coffee available at all times
Stocked snack center with microwave, refrigerator and coffee machine accessible 24 hours a day.
Complimentary use of common areas for quiet business conversations with local business associates.
The dining room is available for private meetings of up to 20 people.
Wireless connection, whiteboard, water, pens and paper provided for the convenience of your associates.
Use of Butler's Pantry with microwave and refrigerator
Full breakfast available for your convenience
Guest rooms feature private bath with shampoo, soap, hairdryer, iron, ironing board and CD player.
Personal concierge services
Walk to dinner and entertainment
In-town cab service
State of Wisconsin In-State Lodging Contract.
Payment via American Express for our midweek business travelers only
Hamilton House is conveniently located two hours from Chicago, one hour from Madison, Milwaukee, and Kenosha and 30 minutes from Lake Geneva.
Business Rate Options: Available Sunday – Thursday with single occupancy

Extended Stay Business rate.
For the midweek business traveler staying four or more consecutive weeks, we have significantly reduced the nightly rate. By reducing select services offered we are able to offer the business traveler a rate of $58 per night. This rate does not include breakfast or daily housekeeping. Extended stay rate available in Manet or Renoir only. Must be paid in advance to qualify for extended stay rate.

Standard Business rate.
Rate based on the State reimbursement rate for lodging only and does not include breakfast. A rate is available for single occupancy reservations Sunday – Thursday, lodging only. available in the Manet room. Other select room may be offered depending on availability.

Midweek Business Discount.
For the business traveler who prefers a room with added amenities to enhance their relaxation, we offer discounts on available upgrade rooms. Business Discount is approximately 15% with breakfast; 25% without breakfast. When reserving online enter promo code c15 for the rate to include breakfast, or promo code c25 for rate without breakfast.

University Travel Rate
Rate based on the Wisconsin State University reimbursement rate for lodging and does not include breakfast. The rate is available for single occupancy, lodging only reservations Sunday – Thursday. The $89 rate does not include breakfast. The University rate is available in the Manet room. Other select rooms may be offered depending on availability. Must call for reservations.
Hamilton House Bed and Breakfast 328 W Main Street Whitewater, WI 53190 (262) 473-1900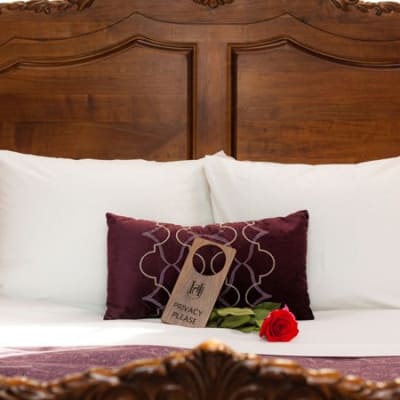 What to Expect
What can you expect from your stay at the Hamilton
You will be swept away in the unique experience of romance and luxury in the comfort of this1860's Second Empire French mansion. Settle into your large, private guest room with en suite bath, fireplace and/or whirlpool tub. Each morning, indulge in a delicious full breakfast served by fire light.
The Hamilton House Bed and Breakfast is well suited for romantic weekend getaways, small business retreats and meetings, or an intimate Wisconsin wedding of your dreams. The Inn is conveniently located near Madison, Wisconsin and Milwaukee, Wisconsin. It is less than 30 minutes from the Lake Geneva, Wisconsin recreation area and less than two hours from Chicago.
There are plenty of activities close by including antique malls, theaters and outdoor adventures. You may choose to stroll along the downtown streets of Whitewater looking into shops, dine in a number of restaurants or sit under the lake front gazebo with an ice cream.
"An elegant and historic home, the best place to stay in Whitewater."
Your stay at the Hamilton House Bed and Breakfast includes private bath, spacious guest room, early coffee, a full breakfast as well as refreshments throughout the day. Use of Butler's pantry stocked with beverages and munchies conveniently located in the guest area. The refreshment center features a microwave and refrigerator that is accessible to guests at all times. Freshly baked 'Confection of the Day' or other indulgence and beverages welcome you each afternoon. The inn has wireless internet, central heat and central air conditioning, private off street parking lot.
Our goal is to make your stay with us an occasion to remember; we look forward to having you stay with us soon.


Your Whitewater, Wisconsin Bed and Breakfast Experience
The Hamilton House is a beautiful historic Inn has been established in a Second Empire mansion prominently located on Main Street (Business US 12) in Whitewater Wisconsin. It is one of Wisconsin's best examples of this unique architecture style including a curved mansard roof. It is the style Napoleon III used in his reconstruction of Paris about the same time period. Also at this time, the French Impressionists had their first exhibition in Paris. This is the reason each of our eight elegant guest rooms is dedicated to one of the original eight French Impressionist artists. You are carried away to the charm of the mid-nineteenth century when you enter this unique Second Empire mansion built in 1861. Grand common areas provide enjoyment for your leisure while comfortable romantic rooms make your nights serene. Hamilton House is included in the National Registry of Historic Homes.
When you rise in the morning, innkeeper Kathie Fleming will serve you a full homemade breakfast in the formal dining room by candlelight and firelight. Enjoy quiet time together as a couple on the Gazebo porch. Soak up the sun during a game of Bocce Ball or Croquet. Swing away the cares of everyday life in the shade of the back garden. Just bring your clothes and a bottle of wine. Rooms are complete with shampoo, soap, candles, and CD player. For your convenience, we have made available tea, coffee, and soda, popcorn and munchies, wineglasses, openers and stoppers, picnic baskets, hair dryer, iron, and ironing board, books, games and music.
Indulge yourself in casual conversation with other guests before one of the fireplaces in the parlor or the library. Perhaps a friendly game of chess, or a good book. Savor the lingering time away from the hectic pace of your modern life with a cup of herbal tea or hot cider.
Relax and unwind as the innkeepers take care of the details. Enjoy the convenience of personal concierge services. We are happy to make dinner reservations for you or arrange for dinner to be delivered to your room. We are happy to assist in making arrangements for activities in the area. If we can do something to make your stay more comfortable, just ask; we will make every effort to accommodate all requests. Your imagination is the limit.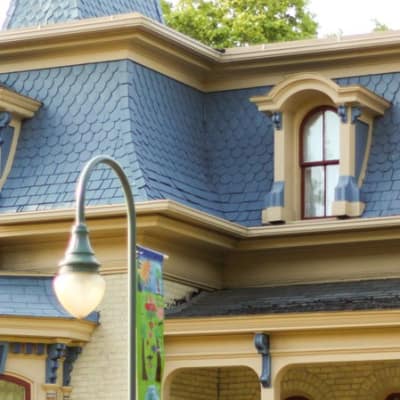 History of Hamilton House
The history of our Second Empire Victorian mansion began long before the entrance of its name-sake, Herbert Hamilton. The diverse and interesting history of this home has been traced back to when the land belonged to the government. Dr. James Trippe purchased the land from the government on March 25, 1841. After the land passed through several hands, Dr. Greenman, the local dentist purchased the land in 1861. The home is said to have been completed in 1868. This is assumed due to a significant tax increase on the property in that year. Dr. Greenman and his wife, Elizabeth, lived in the home until 1880.
The Van Gieson / Posey family purchased the home on August 20, 1880. Van Gieson's daughter, Sarah was married to Oliver P. Posey (initials in the entry hall window). In 1881 major additions were made to the home. Four rooms were added to the east side of the home, the bay windows were added or enlarged, doors and windows were upgraded, Queen Ann style porches were added and the main stairs were changed. Sarah gave art lessons from the home. Her hand painted tiles can still be seen inlaid into the woodwork of the grand staircase.
The home changed hands again several times before Herbert Hamilton purchased the home on October 19, 1903 for $5,000. The Hamilton's were the first Whitewater natives to own the home. Herbert lived here with his sister Ella, a librarian at the Whitewater library for 25 years. After the death of the last Hamilton, the home was sold in 1950.
Since 1950, the home suffered greatly. It changed hands many times, almost being torn down twice to make way for a library parking lot, serving as a rooming house, Sorority, Fraternity, doll museum, antique store, office building, and finally a family residence and Bed and Breakfast. September 29, 2000, the current owners, the Fleming / Witham families, purchased the inn with the intent of returning it to its original grandeur and operating a luxury bed and breakfast. A year long construction project was begun upgrading the amenities including additional baths, opening the parlors for guests' use, and redecorating. After a season of operation, another construction project was started to build out a cozy, three bedroom innkeepers' quarters in the basement. This enabled the opening of two more rooms. The Hamilton House Bed and Breakfast now boasts eight guest rooms, all with private baths and most with fireplaces and/or whirlpool tubs.
After moving in, the innkeepers began to hear rumors of the existence of secret tunnels leading to other homes and the train depot. These tunnels are believed to be a part of the Underground Railroad. We anxiously await further investigations and stories that gradually find their way to us as the mysteries of Hamilton House unfold.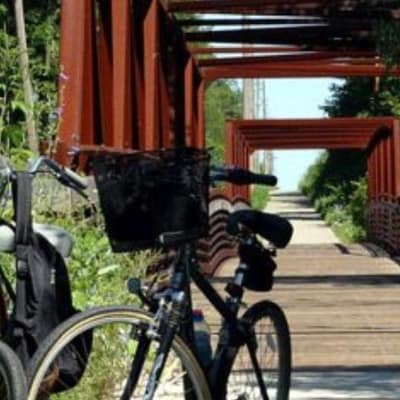 Whitewater Wisconsin
History and Culture of Whitewater, Wisconsin
Whitewater is designated a Preserve America Community (one of only 15 in the State) as well as a Main Street Community–this speaks volumes about our town's commitment to preserving our heritage.
Begin by requesting a copy of Touring Historical Whitewater from the Whitewater Tourism Council. This free guide lists 77 locations throughout Whitewater of historical significance and contains photos as well as a detailed map.
Whitewater's Historic Train Depot was designed in 1890. In 1852 it was the first rail line to cross Wisconsin. The depot's scenic location on Cravath Lake makes this a must see and is open weekly as a museum. Call ahead as hours vary seasonally. Free admission.
Nestled in the middle of town is a collection of effigy mounds. Studies suggest that these mounds were a gathering place for several Midwestern Native American Tribes. Geometric and animal shapes range from 60 to 300 feet and were built between 800 A.D. and 1200 A.D. Look for The sign along the main drive through the Indian Mounds subdivision.
Pack a lunch and head just a couple minutes outside of town to Whitewater's Artesian Well. Hand dug in 1895 it has continued to flow ever since. On the way back, consider a stop at the Fuzzy Pig to peruse an interesting selection of gift items and antiques in a unique setting.
Interested in Civil War Memorabilia? Part museum, part shop, Lodgewood Manufacturing in downtown Whitewater carries a wide range of items including period clothing, weaponry, documents and medals. Well informed staff can answer all your questions. Call ahead as hours of operation can vary.

Situated in the bluffs of the Kettle Moraine overlooking Whitewater Lake, Heart Prairie Lutheran Church proudly stands surrounded by a pioneer cemetery. Built around 1857 by Norwegian pioneers, Norwegian was spoken exclusively in the church until 1902. The grounds can be viewed from the outside daily or you can take in a service during the months of June-August. Services are held Saturday at 5pm and Sunday at 8am. Special oil lamp services are also held at 8:30pm the last Sunday of the summer months. Views of the lake can be seen from the pews. Parking is limited so arrive early.
Minutes from Whitewater you will find Old World Wisconsin and Hoard Museum. Old World is truly history come alive where a world has been re-created in which farmers, tradesmen and shopkeepers lead their lives the same way these settlers did. Bring the whole family to see, hear and smell the same things that filled the senses of those hardy souls who chose to build new lives in a faraway place called Wisconsin. Plan to spend the day. A local history museum with a big story to tell, the Hoard Museum is like no other. Here you'll meet the Sauk warrior Black Hawk and hear the story of the 1832 Black Hawk War. Find out what kind of soldier young Abraham Lincoln was and learn how "Fort Atkinson" came to be. Visit website for hours of operation.
Alfred Lunt and Lynn Fontanne are widely considered the greatest acting team in the history of American theater. The Lunts' passion for excellence and commitment to the art of live theater was legendary, even at the beginning of their careers. Summer after summer, the Lunts came to Ten Chimneys to retreat, relax, and rejuvenate. Ten Chimneys is a landmark unique among our national treasures. Ten Chimneys' diverse collections and enchanting décor are comprised of the original pieces hand-picked by the Lunts in the 1920s, '30s, and '40s. And the magic is undiminished. Located only 24 miles from Whitewater, Ten Chimneys is a must see for the true history buff.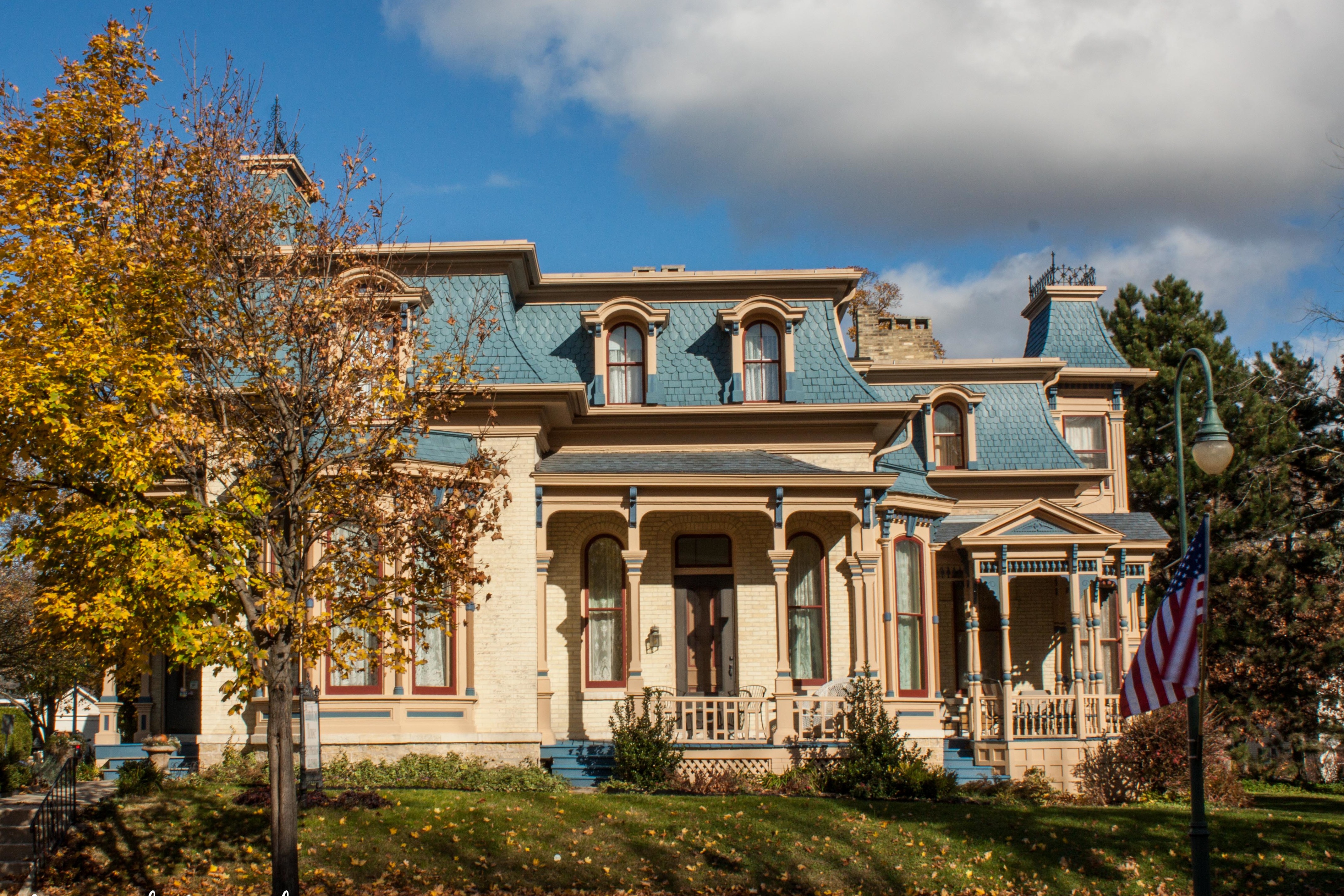 Soak up local History 24/7 by staying in one of Whitewater's Historic Bed and Breakfasts. Hamilton House provides superior lodging and a history all their own. Helpful innkeepers are quick to answer any questions you may have and may offer up a few surprises.
Lodging at the Hamilton House inn, you will be nestled in the heart of Whitewater. You can stroll the downtown shops and dine in a number of restaurants. Enjoy the Fireside Dinner Theater, The Irvin L. Young Auditorium or one of many University of Wisconsin cultural events.

Kettle Moraine - Wisconsin's playground
The surrounding area provides you with some of the best bicycling, horseback riding, hiking or cross-country skiing in Kettle Moraine State Park. You will be less than 5 miles form the beautiful new Ice Age National Scenic Trail.
Hang gliding is also a popular sport in the area and lessons are available. There are 4 lakes close by for water sports and the Lake Geneva tourist area is also near.
Other attractions include golf, Alpine Valley Music Theater and Resort, shopping in the many antique stores or a visit to historical Old World Wisconsin or The Elegant Farmer Market.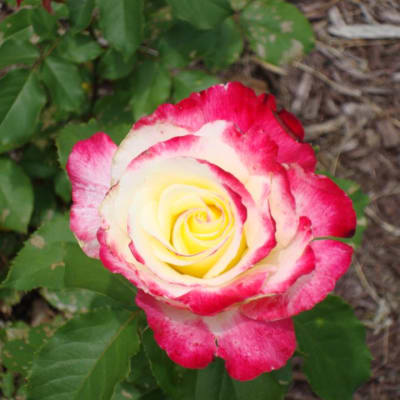 Eco-Friendly
Hamilton House is Eco Friendly!
"Guests appreciate our commitment to the environment."
Who says eco friendly can't be luxurious? At the Hamilton House we are continually looking for ways to be good stewards of the resources the earth provides for our use. We have always believed in being responsible with the natural resources, but we will not sacrifice the comfort of my guests. So this has resulted in ongoing research to find the best eco amenities and services for our guests that are energy efficient, water efficient, waste reducing, non-toxic and biodegradable.
We are happy to hear any feed back or recommendations that you would like to pass along.


A few of our most effective current practices include....
Shampoo/ Bath soap Dispensers
Green Liquid Care Products
Linen & Towel Reuse Program
Non-Toxic Cleaning Supplies
Water Efficient Shower heads
Composting yard clippings
Composting kitchen waste
Recycling
Energy saving power strips for electronic centers
And more!